March 2012
Planning Permission - How to Guide
This short article will help you decide whether your building project requires planning permission, and if needed how to submit a planning application.
Do you need planning permission?
If you are erecting new buildings or making major changes to existing buildings you will need to seek planning permission from you local authority. The Planning Portal is the Government's official planning website and has a list of works that are considered major changes and therefore require an application under - Planning Permission - Common Projects.
Submitting a planning application
The contact details for Cheshire planning authorities are as follows:
Cheshire East Council
Alderley Edge
Congleton
Crewe
Knutsford
Macclesfield
Middlewich
Nantwich
Poynton
Prestbury
Sandbach
Wilmslow
Cheshire East Council
Westfields
Middlewich Road
Sandbach
CW11 1HZ
tel: (0300) 1235014
For more information about the Cheshire East planning process please see the planning pages for cheshire east council.
Stockport Metropolitan Borough
Bramhall
Cheadle
Cheadle Hulme
Gatley
High Lane
Marple
Mellor
Romiley
Woodford
Planning Services
Place Directorate
Stopford House
Piccadilly
Stockport
SK1 3XE
tel: 0161 474 3617
fax: 0161 474 4337
Planning application forms, guides and further information specific to Stockports planning process can be obtained from Stockport Council's website.
The decision-making process
The Planning Portal have produced a flowchart that gives an overview of the decision-making process and is worth taking a look at as a first step.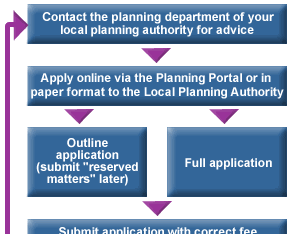 Planning applications have to be decided in line with the relevant local planning authority's (LPA) Development Plan - unless there is a very good reason not to do so.
When deciding whether a planning application is in line with its Development Plan, the LPA will consider the following:
• The number, size, layout, siting and external appearance of buildings
• The infrastructure available - e.g. roads and water supply - and proposed means of access
• Any landscaping requirements
• The proposed use of the development
• The likely impact on the surrounding area
Minor planning applications are usually decided solely by a senior planning officer at the LPA - after taking into account any comments received.
Otherwise, a planning officer will present a recommended decision to a planning committee - made up of elected councillors. You are allowed to attend these meetings and, in many cases, are also entitled to speak briefly to make your views known.
Only the elected councillors can vote on the planning application itself. They do not always follow the planning officer's advice.
Councillors or planning officers cannot refuse a planning proposal simply because many people oppose it. If an application is refused - or granted subject to conditions - that decision must be based on the approved plans and policies of the LPA's Development Plan.
The key considerations will be whether the proposal would unacceptably affect amenities and the existing use of land and buildings which ought to be protected in the public interest.
Once a decision has been reached, the LPA must give either a summary of its reasons for granting permission, or detailed reasons for a refusal.
If an application is refused - or granted subject to conditions - the applicant will be told in writing. They then have the right to appeal.
We have always been extremely impressed with the professionalism of the service provided by Simon and his team but also with the immaculate execution of each project...
Mrs & Mrs Johnson, Bramhall
Your astuteness in assessing our needs, attention to detail, and excellent planning skills, were complimented by your desire to please.
Mr & Mrs Beck, Bramhall
A builders guide to gaining planning consent.
Five firms remain in the running for Cheshire East Borough Council's £147 million highway services contract.